About us
Specialists in high quality prints for artists, photographers & illustrators.
We are fortunate to be based in the heart of the Bristol art scene and are privileged to be working with internationally-recognized creatives from many spheres.
Hi-definition 'Giclée' prints on high quality archival papers & canvas.
Accredited being of 'Archival Quality' when used with pigment inks giving an image life of 85+ years
Digital C-types are real photographic prints, created on light sensitive professional photographic paper using a finely balanced red, green & blue light source.
Most of the papers we use have been made in FSC certified mills & we aspire to make all our products the same way. We aim to use friendly materials that are of the highest quality.
Neil Roberts has been in the printing industry for over 15 years now, specialising in c-type, giclee and dye-sublimation. He also has experience with screen printing. Due to being actively involved in the art world there has always been demand for his niche skills and printing services. He decided the natural step was to build a printing and production business hence 212 Productions was born in partnership with Sarah Thorp, owner of Room 212.
Being an accomplished fine artist and photographer himself, Neil understands a client's necessity for flawless quality in reproducing their works. He prides himself on doing justice to the amazing pieces that pass through the 212 Productions studio. Neil gets even greater joy when his clients works that have glided through his printer now adorn the walls in the houses of their contented customers.
Neil enjoys working with other creatives from the various spheres of the arts and has co-hosted a string of successful exhibitions in various galleries and venues in Bristol, London, Northampton, Glastonbury and South Africa. Neil is an "all round" creative being also proficient in photography, graphics, web design, gallery and performance curating.
212 Productions constantly aims to introduce new services and quality products as the company grows. We are privileged to serve your professional and artistic needs.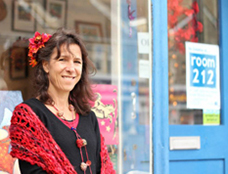 Sarah Thorp : is the owner Room 212, a gallery of Bristol artists on the famous Gloucester Road in Bristol. Many of the artists featured in Room 212 needed prints of their work and this led Sarah to team up with professional printer and artist Neil Roberts to create 212 Productions.
Sarah is a mixed media artist and sells her work at Room 212. She is a member of the North Bristol Artists and handles press and publicity for the North Bristol Art Trail In 2016 Sarah built an Eco House behind Room 212, which she rents as a guesthouse and uses as her venue during the NBA trail at the end of November
As a business owner and resident on Gloucester Rd, Sarah has been instrumental in creating Glos Rd Central, to promote the independent traders and community groups in the area and improve the street scene. She has helped put on events such as Mayfest, the North Bristol Art Trail and Gloucester Road Christmas Street Party. She is the Trader Rep for the BCR Neighbourhood Partnership and is a nominated Champion for the Avon Wildlife My Wild City Project Sarah's initiative to install planters of wildflowers outside shops on the high street was filmed by BBC Springwatch. She is now working on a plan to install artistic street banners along the whole length of Gloucester Road. Sarah runs an active Glos Rd Central facebook and twitter account.
Sarah is passionate about environmental issues and ensures that 212 Productions is as 'green' as possible both with printing methods, materials used and keeping low on waste.
All in all, Sarah Thorp is at the forefront of a buzzing and creative scene in Bristol. Her energy and enthusiasm has ensured that Room 212 is a welcoming and eclectic showcase to the artistic talents of those around her and 212 Productions provides a much needed competitively priced service for Bristol artists and photographers