Caught up with JWest this week. Today is the last day of voting for his pound
March 11th, 2018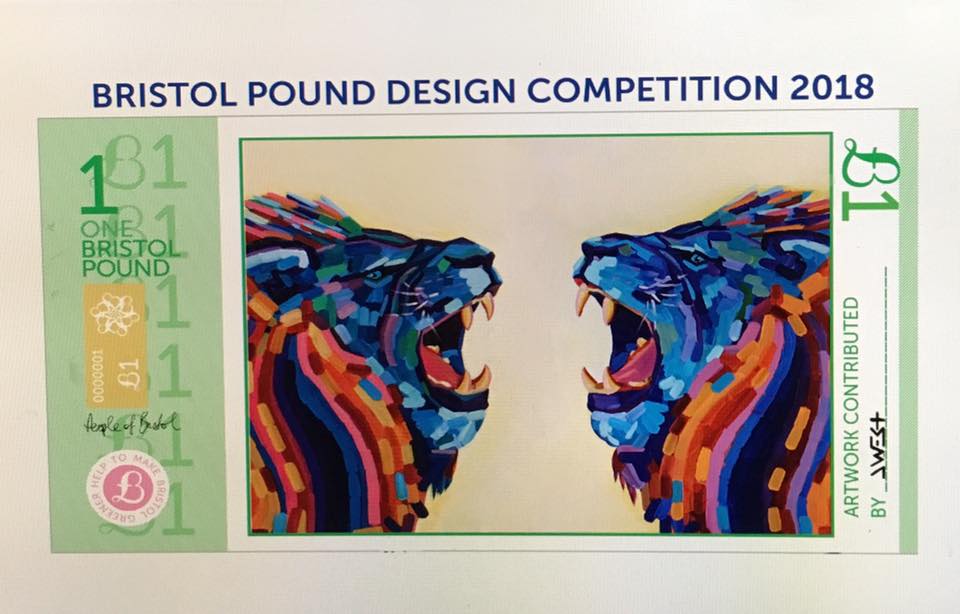 I love JWest's entry for the Bristol Pound. Of the inspiration behind these lovely lions he says:
"Working in Bristol Zoo during the summer of 2015 was an inspirational god send. I had just moved back to the city and had discovered a hidden talent for painting. I would spend my lunch breaks sketching all sorts of animals to take home to paint, from the strange, to the exotic, to my favourites – the lion brothers.
"Bristol Zoo Gardens is famous for their Asiatic Lions, so I thought it was only fitting to paint the two brothers and present them as a colourful canvas duo.
"I think Keton and Kamraan would make a fitting piece for the Bristol Pound as they are not only Bristol boys, born and bred, but they represent Bristol's ongoing support for conservation and saving the rare and endangered. With only 350 left in the world we should celebrate the fact that our city is home, and haven, to the most endangered large cat species in the world."
I asked him about how he came to use 212 Productions and why he uses Neil for his printing.
"Neil was recommended to me by Room 212 when I submitted a few art prints into the shop. He had a small studio at the time but I was instantly impressed with his knowledge of printing, his choices of paper quality and his genuine love for supporting artists and local businesses.
"He has now expanded into 212 Productions and has moved into a larger studio full of impressive art covering the walls from clients and two big printers capable of printer larger and higher quality art prints. My artwork has a thick acrylic impasto style and I like my prints to resemble the original artwork as closely as possible. Neil recommended using a 285g fine art paper which is slightly texture and allows the print to have a subtle grain effect – enhancing the image to look like the original canvas. I now use that paper for all my prints.
"Neil has a big personality and Is always fun to be around which makes it a pleasure to come back to him again and again. He has always been a huge help with giving me advice on prints and paper and has gone out of his way to complete short notice deadlines for me. I always recommend my friends and fellow artists to him and they all say the same thing – best printer in Bristol."
Thanks for your kind words and we wish you all the very very best on the Bristol Pound project.
Last day of voting Sunday 11 March 2018. Please get your vote in for Jon today!! https://bristolpound.typeform.com/to/VoaisH